Bogoyavlenskaya church (1619-1620)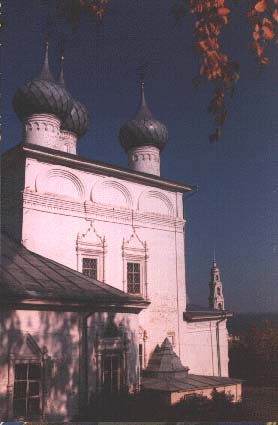 The church is situated on the place of Bogoyavlensky monastery. We do not know when the monastery was founded. It is known only that the monastery already existed in 1584.
The existing stone church is built, according to bishop's Pitirim letter in 1719- 1720 already as parish church. Bogoyavlensky monastery was abolished in 1719. Now monument is unique ancient construction at coastal heights saving its role in a panorama of town.
Museum of regional studies was placed here since 1938 till 1986, nowadays it is a functioning temple.
The church is stone, one-storeyed. The time of its building is exhibited in an inscription on the western wall of the cold temple. Vaults are lancet in this temple, in dining-table semicircular, to stand on two poles. Two smooth tetrahedral posts are in the middle of the refectory. Windows are wide, oblong.
Two side-altars are in the refectory of the temple: right side-altar is for the sake of the apostle Simon Zilot, the left one is in the name of Reverend Saint Makary Unzhensky.
The brickwork of walls is made of heavy bricks (19-20 pounds). There are four slopes on a roof of the temple, the refectory has three slopes. The church has eight chapters (five on a temple and three on altars).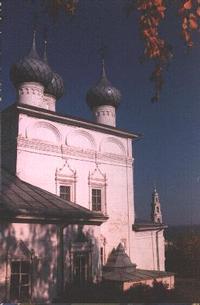 Iconostasis is of the old system with twisted columns and gilt groove located on a scarlet field. Imperial doors are carved, their crown is on a top. All iconc are of old painting: 1750-1760 years. Stone belltower is built in 1810 in the form of three-story pole. It has seven bells.
The church in the name of saint Makary was built on Yuryevets Bogoyavlensky monastery spot. The church was erected in the memory of deliverance of the town from the Poles. And the last mention about the monastery was in 1729 year.