Krivoyezersky monastery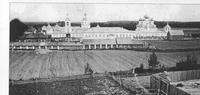 Some hermits settled here in 1634. In 1641 the inhabitants already had a wooden temple with four side-chapels. The founder of a hermitage was its builder the monk Simeon.
Due to exemplary economy the monastery receives property and lands of five enclosed monasteries at the end of the XVII century.
Krivoyezerskaya cloister has acquired the large popularity and respect since 1709, when coenobite Kornily Ulanov has painted m icon of God's Mother named Jerusalem. Ulanov has written many icons for monasteries and churches, but the icon Jerusalem God's Mother is his best creation and all three variants of it acknowledged wonder-working.
In the end of the XIX centry a saw-mill was built on a part of the monastery land. After revolution the monastery was closed down, juveline offenders were kept in it. Then the church buildings were converted into workshops. Gorki reservoir has flooded the monastery in the fiftieth.